When the Christmas holiday ends and all the decorations are packed away our living room looks a little like I feel – depressed. I love Christmas and everything it brings. Don't you think its a let down when the merriment subsides? I miss the excitement and how lovely and lively this house looks and feels.
How to bring back the feeling of a lovely, warm and welcoming home? The answer, update our fireplace wall. I love our fireplace and mantel, but want a cozier feel especially while its so cold and dreary outside.
This was our living room during the holidays. I actually changed our tree this year and went blush and winter white. I will write blog post soon about the blush tree because I want to share the DIY ornaments with you. Once the Christmas decorations are packed away, the living room loses its warmth. I need to bring it back in another way.
Christmas Decor Adds Warmth
Steve and I discussed constructing built-in cabinets in the passed, but the effort and cost were more than I was willing to take on at this point. I decided to create the built-in look with less effort and less costs. My first step was to search for two matching cabinets for each side of the fireplace. The size is a little off standard so the search was a little more challenging.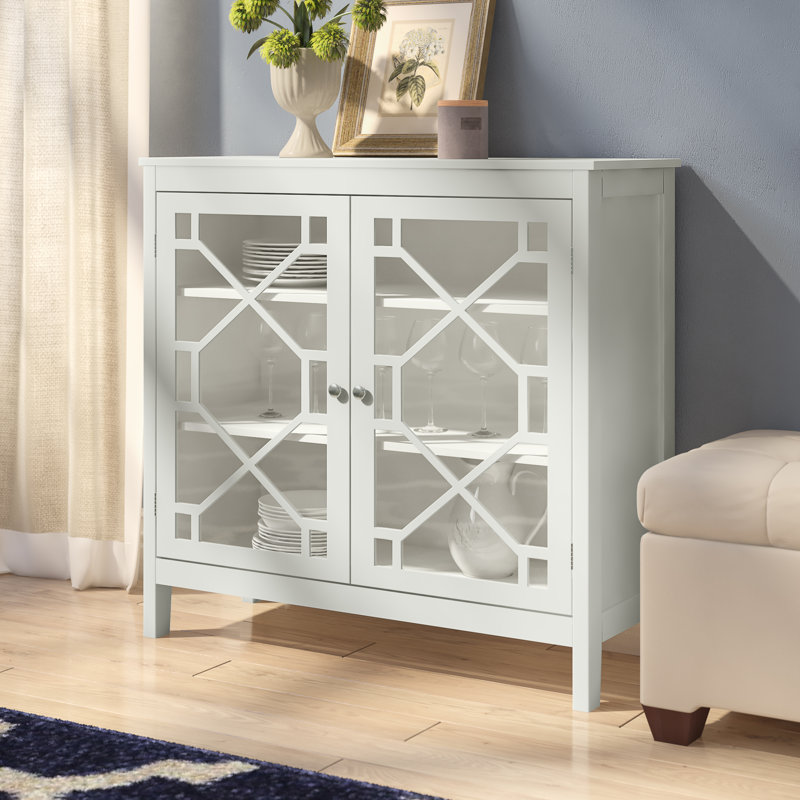 Friedlander 2 Door Accent Cabinet
I found the perfect pair at Wayfair and got lucky they were on sale. You can find it here: https://secure.img1-fg.wfcdn.com/im/53997782/resize-h800-w800%5Ecompr-r85/6816/68168974/Friedlander+2+Door+Large+Accent+Cabinet.jpg
The cabinets would be delivered in two days, I had a little work to do before they arrived. I wanted to repaint the walls, just to freshen them up. This only required a little of my time since I had still had left over paint from the remodel we did 4 years ago. So I simply moved everything out, cleaned the walls and fireplace thoroughly and applied a coat of paint. I now have a blank canvas.
Steve's task was a little more difficult – he was adding a plug on the back wall since the TV components will be in one of the cabinets. Yeah! The wires will be hidden.
We were hoping to complete this as a weekend project and we are on track. The cabinets arrived. Of course they have to be put together. I did know that was the case. Be sure to read the item description and specifications before you purchase so you will not be surprised. I did the majority of the installation myself, with assistance from Steve installing the hinges for the door. It's just easier with 4 hands.
Unfortunately, the color is not a match to the fireplace. The fireplace is bright white and the cabinets are a soft white. There are so many whites, an exact match would have actually been a miracle. There is an easy simple solution, does require a bit more effort on my part, but worth the extra costs and time. I took a small piece of the cabinet wood to our local Lowe's, the paint associate was able to perfectly match the color and now I only had to paint the fireplace. One quart of paint and we were back in business. I took advantage of a Valspar Paint rebate Lowe's offered. You can either submit you rebate by mail or online. I choose online and its fast and painless in a few weeks a rebate check will appear in the mail.
Painting the fireplace only took about an hour, it required two coats to get a complete coverage. Now the color is a perfect match and I couldn't be happier.
You can see the direction I'm going. Second cabinet constructed and installed. Steve also added the plug in the back of the cabinet and re-wired the TV.
Not quite finished, I decided to add floating shelves above both cabinets. I know its not exactly a built-in unit, but so delivered the look I'm after. The shelves were purchased at our favorite store – Lowe's. They come in black, white, and grey – you guessed it – I had to paint the shelves as well. I always track the cost of our projects – two days of effort and $406.17.
I am really happy with the results. Now to add decor – watch for it – the next blog post.